DONNA
RECEPTIONIST
Donna loves to meet new people. Her loves include camping with her husband Rick and spending time with her 2 children, Manny and Crystal, who live in the suburbs. Her hobbies are reading and crafting.
Michele
Financial Coordinator
Michele has worked in this office for 26 years. In 1990, she started as an assistant, then as a treatment coordinator, and finally as a financial coordinator. When not at work she loves to travel with her husband Rudy and kids, Staci and Kipp. They have a golden retriever named Murphy who is the center of the family's life. The entire family loves going to Cubs games and cheering on the Hawkeyes!

Laurie
financial Coordinator
Laurie was born and raised in Canton, Illinois. She has worked in the orthodontic field for 15 years. Laurie enjoys spending time with her family and vacationing in Northern Minnesota every summer.
Carmin
Financial Coordinator
Carmin resides in the Streator area. She started as an orthodontic assistant in 2010 and is now a financial coordinator, providing assistance with financial contracts and insurance claims. Carmin enjoys following the activities of her two daughters, University of Illinois athletics, and vacationing annually to Disney World with her family.
Kym
treatment coordinator
Kym was born and raised in Peru, Illinois. She has worked for Dr. Shah for 13 years and enjoys working as an orthodontic assistant. Kym has three children, two daughters and a son, which includes a set of twins! All three are in college! Kym enjoys traveling, reading, and spending time with her children, and loves summertime! She is a huge fan of the Chicago Cubs and the Blackhawks.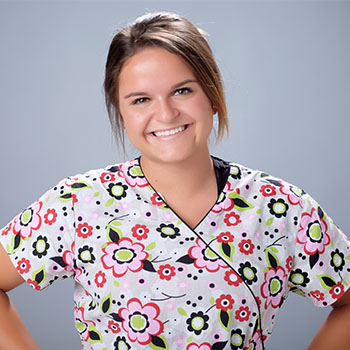 Clarisse
Clinical Assistant
Clarisse was a patient of Dr. Shah and now is excited about having a career working with him. She enjoys the patients and helping to make their smiles more beautiful. Spending time on fishing trips with her family in the summertime is one of her favorite things to do, along with spoiling her dog Winnie.
THERESA
CLINICAL ASSISTANT
Theresa has over 15 years of dental experience. She enjoys spending her free time with her husband, 2 kids and their dog Ava. Some of her favorite things to do are crafting and going to the beach.
Laura
Lab Technician
Laura is our in-house lab technician and has been in the dental field for more than 23 years. She loves seeing the end results in orthodontics when the braces come off and is excited to make the retainers to keep their smiles beautiful. Laura enjoys spending her summers boating with her husband and their dog, Ruby. She loves to grill out and spend time in the garden. As an avid sports fan she loves to watch and cheer on the Chicago Cubs, Bears, and Blackhawks.
Marcia
Lab Technician
Marcia has worked in the orthodontic field for more than 45 years. She loves her job, being with her co-workers, and making beautiful smiles. Marcia's hobbies include quilting, shopping, and yard work. She also enjoys wintering in Mesa, Arizona with her husband, Mike.