Our friendly, dedicated, and energetic team is committed to working with you and your family to create a positive experience every time you visit our Peru orthodontics office.
Top row left to right: Marcia, Laura, Dr. Shah, Dr. Imel, Joan, Tiffani
Second row left to right: Kym, Michele, Mary, Shelly, Carmin
Bottom row left to right: Laurie, Linda, Nici, Spring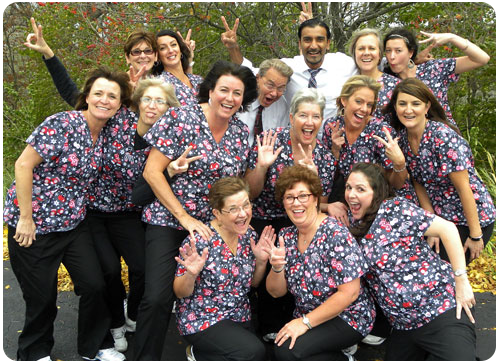 Laurie
Treatment Coordinator/Receptionist
Laurie was born and raised in Canton, Illinois. She has worked in the orthodontic field for over 15 years. Laurie enjoys spending time with her family and vacationing in Northern Minnesota every summer.
Donna
Receptionist
Donna is new to team and loves to meet new people. Her loves include camping with her husband Rick and spending time with her 2 children, Manny and Crystal, who live in the suburbs. Her hobbies are reading and crafting.
Shelly
Financial Coordinator
Shelly has worked for Dr. Imel for 13 years and is one of the financial coordinators. She attended Illinois State University and received her Bachelors in Business Administration. She was an assistant for 8 years and now schedules and does the financial contracts. She loves to see the beautiful smiles that result from orthodontics. Shelly enjoys spending time with her husband and two daughters and their yellow lab and two cats. Some of her favorite things to do are cheering on her daughter at sporting events, shopping, going to the beach and attending Chicago Cub games.
Mary
Treatment Coordinator
Mary is one of our Treatment Coordinators who has been with us for 21 years! Over those years she has enjoyed welcoming new patients and has loved helping provide fantastic smiles at Dr. Imel's. In her spare time she enjoys following her favorite college teams- University of Illinois and Illinois State University. She also loves spending time with her grandkids and following them in their perspective sports. She also loves traveling with her husband, Jim!
Laura
Lab Technician
Laura is our in house lab technician and has been in the dental field for over 23 years. Laura enjoys spending her summers boating with her husband and their dog, Ruby. She loves to grillout and spend time in the garden. As an avid sports fan she loves to watch and cheer on the Chicago Cubs, Bears, and Blackhawks. She loves seeing the end results in orthodontics when the braces come off and she makes the retainers to keep their smile beautiful.
kendall
Clinical Assistant
Kendall was born and raised in LaSalle. She is new to the team and excited to be an assistant. She has 2 nieces and 6 nephews that are her whole world. She has a strong passion for farming, agriculture and her family.
theresa
Clinical Assistant
Theresa has 15 years of dental experience and has been at Premier Orthodontics for over a year. She enjoys spending her free time with her husband, 2 kids and their dog Ava. Some of her favorite things to do are crafting and going to the beach.
Kym
Clinical Assistant
Kym was born and raised in Peru, Illinois. She has worked for Dr. Imel for 13 years and enjoys working as an orthodontic assistant. She has 3 children, 2 daughters and a son which includes a set of twins! All 3 in college! She enjoys traveling, reading, spending time with her children and loves summertime! She is a huge fan of the Chicago Cubs and the Blackhawks.
Carmin
Financial Coordinator
Carmin resides in the Streator area. She started as an Orthodontic Assistant in 2010 and is now a Financial Coordinator providing assistance with financial contracts and insurance claims. Carmin enjoys following the activities of her two daughters, University of Illinois athletics, and vacationing annually to Disney World with her family.
Marcia
Lab Technician
Marcia is a lab technician. She has worked in the orthodontic field for over 45 years. She loves her job, being with her co-workers and making beautiful smiles. Her hobbies are quilting, shopping and yard work. She also enjoys wintering in Mesa, Arizona with her husband, Mike.
amy
Clinical Assistant/treatment coordinator
Amy was born and raised in Tonica. She is a proud Cat and Dog Mom and enjoys spending time with her finance and family. Amy received her licensing in Dental Hygiene in 2010 from Parkland College. She worked in Private Practice before deciding to switch to orthodontics a year and a half ago.
Michele
Financial Coordinator
Michelle has worked for Dr. Imel and Dr. Shah for 26 years. In 1990 she started as an assistant, then as a treatment coordinator and finally a financial coordinator. When not at work she loves to travel with her husband, Rudy and kids, Staci and Kipp. They have a Golden Retriever named "Murphy" who is center of the family's life. The entire family loves going to Cubs games and cheering on the Hawkeyes.
Clarisse
Clinical Assistant
Clarisse was a patient of Dr. Shah and Dr. Imel and now is excited about having a career working with them. She enjoys the patients and helping to make their smiles more beautiful. Spending time with her family is one of her favorite things to do, along with attending Cubs and Blackhawk games.
Loran
Clinical Assistant
Loran is a clinical assistant for Peru, IL. She is a music and coffee enthusiast and loves outdoor activities especially cycling. She enjoys spending time with her dog, Roxanne and traveling to the Upper Peninsula in Michigan for snowmobiling and cycling.